Description
Portable No. 1 - SMALL -

GRILL-BOIL-ROAST BAKE-STEAM
The multifunctional outdoor kitchen with different attachments for all preparation possibilities in one set. 
assembled in only 60 seconds
baking and warming hood enamelled Ø 36 cm with temperature display and evaporation device
cast iron grill plate light with a diameter of 38 cm (can be used on both sides)
Paella pan polished steel Ø 38 cm
2-ring burner with a diameter of 30 cm and a capacity of 7.5 kW at 30 mbar
average gas consumption per hour: approx. 325 gr.
very stable X-tripod stand, up to 150 kg load capacity
height adjustable from 75 to 80 cm
overall height with pan/grill = 80 cm >>> Ideal working height!
FREE OF CHARGE: including spring stainless steel windshield
FREE OF CHARGE: including sturdy carrying bag
operating instructions in German language
incl. paella brooch with recipes
The delivery takes place in a handy packaging (without gas hose and gas pressure reducer).
Perfect for the following number of persons: 2-8
Textile Labelling Law: All our bags and sleeves are made of 100% polyester.
Similar Items: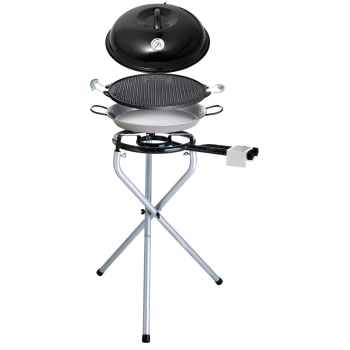 Portable Set No. 1 - LARGE -